Sakino Oto In A Sports-Themed AV Act.12 Sports Wear Fetish X Juicy Pussy Action!! Furious...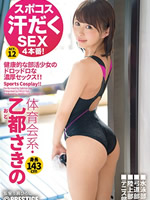 Actress :

Hiroshi Kata

Update :

01/10/2018

Resolution :

1920 x 1080

Size :

3.71 GB

Time :

02:14:59

Format :

MP4

Categories : Group & Gangbang, Schoolgirl
+ Larger Image
Description : Prestige exclusive actress 'Yu Saki' s expand sweaty thick sex with 4 types of spicos! Good swimming from the lower body! A swimming member who is pleased while talking about a sexual harassment foam guidance! Overcome the anxiety and win the normal heart! Kyudo members who set sloppy mischievous workers on meditation! Temptation of death by pretender is started! Athlete who shoots a longing teacher with a body! I can not stop 'like' feelings! A tennis club member who is standing in a corner with bald elegance! Drip sweat is healthy, overflowing love juice is proof of lust! As you go along with instinct, intertwine asking for pleasure!