Tied Up & Forced To Cum 3. Makina Yui Losing Control Of Her Bladder Between The Pleasure & Pain...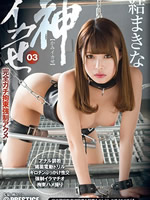 Actress :

Makina Yui

Update :

04/10/2018

Resolution :

1920 x 1080

Size :

3.36 GB

Time :

02:03:33

Format :

MP4

Categories : BDSM, OL & Cosplay
+ Larger Image
Description : Pleasure that can not be escaped by Prestige exclusive actress "Tsunakina" .... Depriving freedom of freedom, local part exposed. It gets greedy without pretending to be glossy limbs, and inscribes pleasant feeling with pain and suffering. Restraint which tightens bare skin, toy continuing giving stimulus unilaterally, aphrodisis which erodes the whole body. Excessive stimulation brings excitement that can not be tasted in everyday life, causing a crowning that continues without stopping. Imamachio, who makes a throat back and forth, repeats a pleasure filled with torture, a piston that repeats endlessly has a culm over more than necessary. I will not listen to the screams that express the limits and the cheeks that caught the crown, and will lead them to the level of pleasure to lose their ego ....